Biography


Prince Diabaté hails from a prominent, Malinké family from Guinea, West Africa. He learned his art from his father, Djéli Sori Diabaté. Breaking with tradition, his father also taught Prince's mother, Hadja Djéli Sira Cissoko, to play kora. The young boy became an exceptionally early starter by accompanying his parents to their concerts throughout West Africa. Despite his father's disapproval, he decided to make music his life. When he was eight years old, former Guinean President, Sekou Touré, came to his home town, Kindia, for a celebration in Independence Square. Braving the outraged soldiers and his own fear, the young musician grasped his kora, threw himself at the President's feet and played a special song for him. Greatly touched by his skill and audacity, Sekou Touré became his benefactor, enrolling him into the National Children's Theatre in Conakry. At 16 years of age, in Abidjan, Ivory Coast, he stumbled upon a videocassette of Jimi Hendrix and, inspired by what he heard, entered an international kora competition. Taking first prize that day he became known as 'Prince Diabaté, Prince of the Kora.'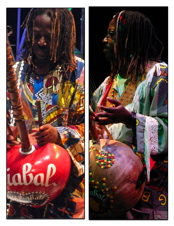 In 1986 he met the singer, Amara Sanoh, and the two started to perform together. After 12 successful years on the international festival circuit, touring in Africa, Europe, Canada and the USA, they disbanded and Prince Diabate settled in Los Angeles, USA. Prince Diabate has released three CDs: Lamaranaa (Buda Musique/Allegro) in 1993, New Life (Sunrise Records/Orchard) in 2001, which features guest artists Michael Brook and Hassan Hakmoun. His next album, Djerelon (Kora Company Collection) was recorded in Guinea, Conakry in 2006. It is arranged and produced by Kante Manfila, longtime collaborator of Salif Keita.The album won the People's Choice Awards (Vox Populi) in the Independent Music Awards for 2007: World Music (Traditional) category. Lamaranaa and New Life are available as digital downloads with Virgin France and Itunes and Djerelon is available through Itunes.

Considered to be one of the leading kora players of his generation, Prince Diabaté brings not only total mastery over his ancestral tradition, but a commitment to renew it through fresh ideas and exchanges with musicians from many cultures. His years in the USA produced collaborations with artists and groups as diverse as The New Mexico Symphony Orchestra, Adam del Monte (Flamenco) Hassan Hakmoun (Gnawa) and Grammy winners Michael Brook (guitarist-producer-composer) and Ozomatli (Hip-Hop fusion.) The musically adventurous griot has incorporated reggae, rap and blues into his work and, further developing his "Jimi Hendrix" technique, also punctuates his work by the occasional, funky use of the wah-wah pedal. Recently, he has adapted the music of the Wassolou to his repertoire, which he plays, self-taught and kora-style, on the kamelen n'goni. The result is entirely his own creation: a fresh, powerful brand of twenty-first century Manden music, which remains strongly rooted in traditional codes and references.

In 2001, he recorded with Ozomatli on "Embrace The Chaos," their Grammy-winning CD. In 2002, he was a nominee for the LA Weekly Music Awards and the New Times Music Awards. He was also a finalist in the International Acoustic Music Awards for 2004; the Unisong Contest for 2005-2006; the International Songwriting Contest for 2004 & 2005; and took first prize in the 2005 and 2006 Pacific Songwriting Competition. His work has attracted grants from Arts International; Alliance for California Traditional Arts; Los Angeles County Arts Commission, Los Angeles Cultural Affairs Department and the Durfee Foundation. Prince Diabate also maintains an active schedule as a lecturer on aspects of Mandinka music. His clients to date include colleges and universities in California, Washington State and New York. He is also sought after for film and television projects in Hollywood.

These days Prince Diabate divides his time between France, the USA and Guinea and is often on the move, performing with his group. His recent ventures include three world tours as a special guest with Mamady Keita and his group, Sewa Kan (2009-2011.) In 2014 he recorded his latest album in France, entitled FASO, with Marseille-based guitarist, Jeff Kellner. In 2017 he formed FASO TRIO with Jeff Kellner and drummer/percussionist Ahmad Compaoré.
At the end of 2013 the Prince Diabate Academy of Music® was officially launched in Guinea. This new academy, the first privately-funded establishment in Guinea, is the result of Prince Diabate's desire to create an international music school specializing in stringed instruments and traditional flute. Thanks to the encouragement of government ministers, construction is underway and the foundation stone was laid in December 2013.

BIOGRAPHIE (VERSION FRANCAISE)
Prince Diabaté, joueur de kora, chanteur, compositeur de Guinée, Conakry, est connu comme l'un des pionniers de la kora "alternative" grâce à un parcours musical riche et singulier. Issu d'une grande famille de griots malinké de la Guinée, Conakry. Prince Diabaté, a commencé son apprentissage à la kora dès l'âge de 5 ans auprès de son père, Djeli Sory Diabaté . Rompant avec la tradition, son père a également enseigné la mère de Prince, Hadja Djeli Sira Cissoko, à jouer à la kora et le petit Diabaté est devenu apprenti exceptionnellement précoce en accompagnant ses parents à leurs concerts à travers l'Afrique de l'Ouest. Mais Djeli Sory ne voulait pas que son fils cadet soit musicien comme lui; il aurait préféré qu'il fasse ses études, qu'il apprenne un métier. Alors le jeune fonceur a été obligé d'apprendre à jouer à la kora en secret. Mais, à l'âge tendre de 9 ans, prenant son destin musical en main, le jeune virtuose a attiré l'attention de l'ancien Président, Ahmed Sékou Touré, qui a amené son protégé lui-même à la capitale, Conakry, pour l'inscrire au Théâtre National d'Enfants .

Suite à sa formation, Prince Diabate avait à peine 16 ans quand il se trouvait "en aventure" à Abidjan, Côte d'Ivoire. Invité à se présenter au Concours International de Kora, et inspiré d'une vidéo-cassette de Jimi Hendrix qu'il avait découvert, il remporta le premier prix du concours et devenu, ce jour, « Prince Diabaté, Prince de la Kora » Ce concours fit basculer sa carrière car, désormais, il acquiert aussi le surnom "Jimi Hendrix de la Kora"autant pour sa technique élaborée qui fait de son instrument à la fois une basse, une percussion, une harpe, que pour la relation particulière entre lui et sa kora.

En 1986 Prince Diabate a formé un duo avec le chanteur guinéen, Amara Sanoh, et ils ont commencé à se produire un peu partout en gagnant de nombreux prix, dont notamment "Découvertes 90," sponsorisé par Radio France Internationale. En 1993 ils sortent un album intitulé "Lamaranaa," enregistré à Paris chez Buda Musique. Le succès de ce disque impose Prince Diabaté comme l'un des joueurs de kora le plus talentueux de la nouvelle génération et lance le duo sur le plan international, en leur donnant l'occasion de se faire remarquer sur les grandes scènes en Europe, en Afrique, au Canada et aux EUA.

Lorsque le duo se dissout en 1998, Prince Diabaté a décidé de rester aux Etats-Unis pour y recréer sa carrière. Enrichi de ses collaborations et rencontres avec des artistes américains, il fonde un nouveau groupe, tout en développant sa signature personnelle « Jimi Hendrix » marquée par un pédale de wah-wah qu'il branche à sa kora . En 2001 son deuxième album, "New Life" sort. Enregistré entre New York et Los Angeles, "New Life" (style "World Music") est un disque basé sur ses racines mandingues, mais influencé par une modernisation de genres musicaux, comme reggae, rap, blues, flamenco, avec la participation d' invités spéciaux américains qui ajoutent une dimension universelle au projet. Parallèlement aux concerts et tournées avec son groupe américain, et en sa qualité de griot, Prince Diabaté intervenait aux écoles secondaires, aux collèges et aux universités américains ( Columbia University, New York; University of California, Los Angeles. ) Son talent lui a valu de nombreux prix de concours (LA Weekly Music Awards; International Songwriting Contest) et des subventions des institutions culturelles (Arts International; Alliance for California Traditional Arts) et il était sollicité par les studios de cinéma et de télévision d'Hollywood .

Toujours à la recherche des sonorités nouvelles, Prince Diabaté puise maintenant dans les rythmes de la tradition « Wassolou » qu'il adapte à son propre jeu en les mêlent habilement pour en créer des compositions originales. Il présente ce répertoire sur scène en jouant, de façon atypique, au kamelen ngoni, instrument traditionnel des chasseurs. Les résultats se revêlent dans son prochain album, « Djerelon » ["retour aux sources' en malinké] album semi-acoustique enregistré à Conakry, Guinée en 2006, et coréalisé avec feu Manfila Kanté, guitariste et arrangeur de Salif Keita. Cet album, le plus abouti, confirme toutes les potentialités de Prince Diabaté comme musicien et interprète au chant. Son approche fraîche nous transporte dans une ambiance d'autres cultures de la Guinée (Peuhl, Susu, Baga) pour en faire une rencontre réussite de modernité et tradition, qui est très remarquée par la presse américaine.

Aujourd'hui Prince Diabaté est basé en France, mais il se partage entre les EUA, la France et la Guinée et il est souvent sur la route se produisant avec son groupe. Ses derniers projets comprennent trois tournées mondiales, en tant qu'artiste invité spécial, avec Mamady Keita et son groupe, Sewa Kan (2009-2011.)
En 2014 il sort en France, FASO, son dernier album enregistré avec le guitariste Jeff Kellner. En 2017 il forme FASO TRIO avec Jeff Kellner et le batteur/percussioniste, Ahmad Compaoré
A la fin de 2013 le "Prince Diabate Academy of Music®" a été lancé en Guinée. Ce beau projet, la réalisation d'un rêve ambitieux de plusieurs années, sera la première école internationale de musique en Guinée, dédiée aux instruments à cordes et à la flûte pastorale. Grâce à l'encouragement de Madame Kaba Rougui Barry, Ministre des Guinéens de l'extérieur, et d'autres personnages en Guinée, le chantier est déjà en cours et la pose officielle de première pierre a été fêtée le mois de décembre 2013.

DISCOGRAPHIE

Albums
Lamaranaa (Buda Musique/Musique du Monde) 1993 (France)
New Life (Sunrise Records) 2001 (USA)
Djerelon (Kora Company Collection) 2006 (Guinea/USA)
"Faso" (Kora Company Collection) 2014-2015 (France)
Compilations
Acoustic Africa (2000) Manteca World Music (UK)
World Festival of Sacred Music-Los Angeles (2002) USA
Festival International Nuits d'Afrique (2004) Canada.
Festival International Nuits d'Afrique (2006) Canada